SPOILER ALERT! it is a little more complicated than just:
Plan your Goal
Training Montage (if you missed the blog teaser, here is my favourite)
SUCCESS
Like last weeks blog, it all start with a goal and then the system to help support that goal. However, it is important not make the goals overly difficult or complicated. But at the same time, we do not want to make it too easy either.


If something is too demanding it results in us not following the plan. The age old "I must do 100 push-ups a day" for example. Inevitably you miss one day. Then you think, if I do "200" tomorrow then everything will still be on track. The problem with this sort of thinking is, "200" in one day is a lot more. So much so, that you probably will be extra sore because of the doubled intensity. You probably end up skipping the workout the next day to recover and the cycle continues. This is the start the slippery slope as we just keep making the goal bigger, martyr ourselves and more it even harder to achieve.


However, if it's too easy lets say 5 push ups a day. You should in theory be able to find the seconds needed to complete this every day. The challenge though with something so small and insignificant is the priority will be pushed to the bottom. It is very easy to overlook it. Most people would forget about it until you are brushing your teeth at night. After realising doing a quick 5 and jump into bed. Although, it is only a matter of time before you forget a couple of days in a row and then the conscious goal to do 5 push ups a day is lost.
Goals once achieved should not by themselves complete the entire picture. Instead an over-arching goal is something to strive for and then we use a sub-goal to check our progress with clear facts. It's not just, "I want to be healthier". It should be "I want to be healthier by being able to run 5km in 15 minutes". Not, "I want to be a better volleyball player", but "I want be a better volleyball play by serving 4 aces a game".
How do you know you made the right goal? Well, did you do it? Did you achieve it? If yes, then it was right, now re-evaluate and set another goal. From the example above with service 4 aces in a game, now try to get 4 aces but 1 of them is a short service. On the other side if you did not achieve your goal, then it was the wrong goal for this current moment. Maybe you didn't accurately know how far away from your goal you currently ability is. Then maybe set a new goal of getting every service in, during training or a game. If we don't do that we then run the risk of our ego's not allowing us to start where we have to start (that could be uncomfortable for us, if we think it's below us) and take the necessary steps to progress from where you currently are to where you want to be.


Otherwise we can end up like Danny Kinda, who says "Don't be good, be Kinda Good". If you don't know who Danny Kinda is. He is a volleyball player who made parodies of volleyball with comedic view to them. Check out his beach montage below. Also check out his first 2 videos that brought him a celebrity status in volleyball world in the early 2000's, here & here. Which I think are even funnier than this one.
Now I want to break down 7 categories to think about from Richard Young: simplify2perform.com when building a high performance system.
1.Your Environment
This is the big stuff in the background which helps keep you grounded. Your family, your friends, even things like social media, your car and the daily grind of life. A successful environment should be as simple as possible so it can stay as consistent as possible. Whatever extra things comes along can be dealt with, without it overlay effecting your entire mood that day.
So we try to look at the balance of Home/Work/Hobby. It is vital that at least 1 of the 3 segments should bring positive emotions into your life. If you have all 3, then consider yourself lucky.
For amateur players who work full time jobs, being able to train and play is always better than being in the office. But diversity of environment is also important at the amateur level. Sometimes you will have a bad day at work, maybe you have a bad training also, then what? This is where you home environment can really help you rest, rather than losing the next couple of days being grumpy about it. 


Although even full-time professional athletes can have problems with their environments. For some of them there is only Home/Work as sport is now their work. So bad day on the court feels like their entire world has gone bad. That's why the environment needs to help them stay grounded and realise their are other things in their life to enjoy apart from Volleyball. It should always be more than just Eat/Train/Sleep/Repeat.
It has always been my advice to players (especially young players) looking to become professional athletes. To be aware that they will give up a lot to invest everything in becoming the best as fast as possible. Something has to give, as athletes only have so much fuel (energy/time/concentration) per day to use. But, that sport/hobby section in their life has to also prioritised to stop their lives becoming 2D and overly influenced by a bad result or bad training session.
Being over influenced by a lack of positive events across all 3 sections in your life creates problems for ever. It is difficult to keep focused on a goal when everyday your mental state is so reactive to your environment. One day calm, the next completely stressed. It is almost like coming to training without eating anything the whole day and the next training after stuffing yourself with an all you can eat buffet right before training.
So my advice, keep your environment simple, don't sweat the small ups and downs and when 1 part adds more stress, see if you get more positive energy from the other sections.
Home = Clean up the apartment or invite some friends over (maybe clean up first anyway)
Work = Can you get that project finished earlier than you thought or maybe try that new place for lunch you had been thinking about
Hobby/Sport = Get a good workout in or bring you training improvements into an actual match
Your Routines
The point of routines is to help you find things that work for you, it's a big factor of starting to learn and progress. For example; did a certain warm up get you perfect in the zone and ready to train, good. Then leave it for a while until you notice it doesn't work as good. The problem is people like to innovate and include the next fad too often, which brings us back to the trying to be as efficient as possible or as effective as possible. It can very often follow this process:
Great warm up, but felt not just enough
Found what works great and trained well
Seen a Instagram video about thera-bands for warm up, so add an extra 10 minutes to warm up
Heard from a friend about how amazing a massage gun has helped them before training, add another 10 minutes
It was becoming too difficult and time consuming, so now you just run and throw the ball around with a partner
With all these extra things, chances are you have more stress to arrive early, more things to remember to bring and maybe even not feeling sharp towards the end of training. Which will most likely bring you into the idea of you need to do even more to be better. 
This is what I meant last weeks blog; high performers know when to add and when to subtract and that the best way to innovate is through polishing and sandpapering what you currently do. Constantly adding causes lots of change meaning you are dealing with something completely different and new every month. It's difficult to create progress from chaos, so find what works for you and refine it rather than building more on top.
Not Doing It Alone
If what many believe is true, behaviour is at least 1/3 learnt. You should ask yourself who do you surround yourself with? Who do yo mostly observe and train against? Who gives you advice? If you just play volleyball a lot, more often or not you will get better. You can learn what is right and wrong by seeing how effective your actions where (the game teaches the game). Although this is a tough path as the game doesn't really care if you get better or not. Normally neither do your opponents.
This is where a coach comes in. As they do (or at least should) care if you get better or not. Their role is to make the athlete aware of the things they need to improve on. Lemov, the author of Teach Like a Champion, talks about the importance of feedback to performance, noting that the term 'practise makes perfect', may be better termed 'practise makes permanent'.
So players who learn from just playing will eventually also improve, but they bring with them more permanent bad habits, which will make games against good players more difficult. When good habits are learnt in training this develops a folder of evidence that a player saves (as experience). After training and improving the ability of knowing what works for them. They can now bring these saved examples into a more stressful game environment. Once successfully applied in an actually game, from here the player can then try to uses these solutions in high pressure moments and when it works it gets saved into the high pressure folder.
So if you want to progress find some friends and play often, if you want to progress as quickly as possible then find a coach who can give you the feedback necessary to discourage bad habits while developing good habits. This will result in better technique, and a bigger evidence file or knowing what works and what doesn't.
Setting a High Bar
This is about having high goals and that you should not be happy with an average performance. How many interviews have you heard from athletes after a win or good performance and they talk like, "yeah it wasn't bad, it could have been better if…"


This is because they have high goals, although I said earlier high goals can be dangerous as you can become disillusioned. The trick to not becoming disillusioned is by knowing you cannot achieving the goal 100% in one moment, its a continuous process. So, setting high goals is fantastic, but all athletes even the legends of the game are only human. They do not have only good days, always win the big matches and always brush off defeats. There is also no endless amount of self confidence and belief, but what they do have is a good support team (coach ect) around who helps them revaluate after performances so they know if the current process is still the right one.
Now we start linking the categories together, if you want to have high goals without being disillusioned, make sure you do not having to do it all by yourself. Find a coach, if you really determined find extra support from a strength coach, sport psychologist or nutritionist. Apart from their specific expertise to help your performance an extra part of their roles is to give you someone to sound out your thoughts and feelings to (reflect). Reflecting allows for re-evaluate after performances, so you know where you currently are and if your still going in the right direction. This is a sure fire way to become to best possible version of yourself.
Creating Progress / Not Fixing Problems
In the last article I put up a similar photo about plans/goals and reality, this one takes it even further as there are dangers at each stage also.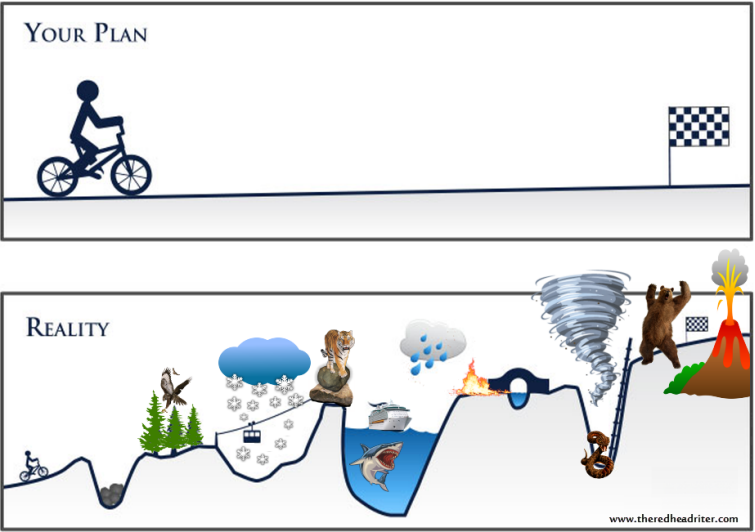 Copyright: "Your Plan vs Reality Graphic – It Might Not Be Easy, But It Will Be Worth It Or Will It Be Worth It?", by Sherry Riter: theredheadriter.com
Without the dangers it is still a more difficult path the plan would lead you to believe but one that should be inevitably achieved with enough time and dedication. With the dangers though, this is perfect representation of the distractions we get along the way.
Very often we start our on our road to progress with our goal in sight. Although over time we do not always stay fixed on our goal, especially when things get tough. When it gets tough, we start into a mentality of grinding. When we do not progress easily and the longer we stay at a specific stage the more we get focused in on what right in front of us. Quite often progressing is no longer the goal, but mastering or fixing the problem in front of us is.


Fixing the problem in front of us usually means we are focusing on getting better at that one thing annoying us. So we start trying extra hard and give everything. In these moments the best thing to do is to take a step back, create some space and think about your goal and then decide should this problem be taking so much priority of your thoughts and energy. Quite often or not the problem is a problem because of your focusing too much on it.
If you spend the majority of time focusing on things you are bad at, you will make more errors, becoming more frustrated and create a lower level of self-belief. Basically you fight an uphill battle with yourself, before you even start trying to compete with an opponent.


As I talked about building evidence for training to bring into matches with you. Training is a good time to work on the things we are weak at, but they should be a sub-goal. What is often more important is improving your strengths. So we should focus on creating our strengths to achieve our goals more than fixing our weaknesses.


Be Healthy/ Not Injured
This is simply for athletes to know their bodies, what works for them and what doesn't. Once you know this you can start to figure out what your training boundaries are. Many weekend warriors are overtraining as they try to cram what a professional would do in a week into their free time on the weekend. There are also many who would be undercooked in terms of physical preparation, by lacking the sort of strength and speed required to perform well. These factors really impact on the chance of injury and performing consistently.


When we look to professional sports, one of the most important statistics is how many training days has a player missed.  We have all heard the stories of an up and coming athlete who has promise and potential but never reaches it. If it's due to injury it is normally never just one, but a serious of chronic injuries due to the player overtraining and pushing beyond their physical boundaries. Resulting in many missed trainings and losing out of the time and work required improve performance. Obviously we should push our selves to be better, but not to the detriment of injury.


Players are at the middle of the whole system, it all revolves them and around their health and physical well being. Training not only allows the player to improve and perform but it gives the coaches a chance to evaluate and plan what the next steps should be. With any lengthy time on the side-lines (injury/illness ect) the entire system is put on hold. Eventually once the athlete is able to train again, there then must be a re-evaluation to assess of how much of a set-back the injury was. From here the goals/plans/system can be adapted to create the new starting point and then progress can continue. 

So find out where your physical boundaries are and if those boundaries are limiting your performance. See what you can do it improve them. It will make a bigger difference than you think to be consistently in training focused, healthy and strong.
Learn how to become learners
To be effective, to be successful is a race to the top but not to the top of performance; to the top of learning. Sports themselves and the sport science to go along with them is a constantly evolving world. Our job as players and coaches is to filter all the noise (and there is also a lot of white noise too) and focus on what the priorities should be. Don't forget that having any more than 3 priorities means you don't have any. 
How do I figure out how to become a better learner and what my priorities should be? The big secret is losing. Quite often you hear the catchphrase of  "You either Win or Learn". It's nice but the problem is that doesn't tell us how to learn. The starting point has to be to observe yourself and your performance and then reflect on it. Once you have done that then you can learn. 
How and what should you reflect on:
What did I expect
What happened –> What didn't work
What is the gap currently between my goal and the reality
Make a decision on what you think is the best direction for the next time
After the next attempt reflect again to see have you got closer or further from your goal
I hope working through these categories will help you develop your own systems to success but as a last message. It is important to not forget that we are all individuals with different lives, demands, strengths/weaknesses and opinions. Meaning it is very likely we see all these 7 categories different in terms of priority.
The same goes for coaches, who will also have their own opinions and evidence that will make them stronger in some sections and weaker in others. Meaning that one system from a coach with a copy / paste to all their athletes can work; but is sub-optimal. What we should be looking for is a discussion with the coach on your goals. Then evaluate your current reality/ability and us this system with a more copy / edit / paste approach.